Aminu Waziri Tambuwal (born January 10, 1966) is a Nigerian politician who serves as the Governor of Sokoto State in Nigeria, having won election during the 2015 general elections and re-elected in the 2019 general elections. Tambuwal is a member of the People's Democratic Party and served as the 10th Speaker of the House of Representatives of Nigeria, also representing the Tambuwal/Kebbe Federal Constituency of Sokoto State as an honorable
Aminu Tambuwal Biography and education
Aminu was born on January 10, 1966, in Tambuwal Village in Sokoto State to Waziri Tambuwal.
He attended Tambuwal Primary School, Tambuwal, Sokoto State, where he obtained his First School Leaving Certificate in 1979; and Government Teachers' College, Dogon-Daji, where he obtained the Teachers Grade 11 Certificate in 1984. He then proceeded to Usman Dan Fodio University, Sokoto, where he studied Law, graduating with an LLB (Hons) degree in 1991. He completed his one-year compulsory legal studies at the Nigerian Law School, Lagos, obtained his BL and was called to the Bar in 1992.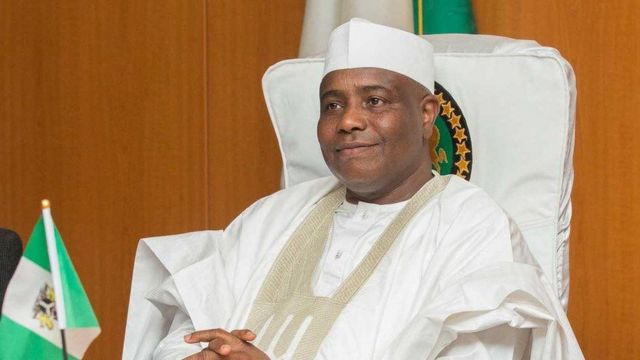 Besides studying for his law degree, he attended several courses abroad, among which are the following: Telecoms Regulatory Master Class–Bath UK, 2004; Lawmaking for the Communications Sectors –BMIT, Johannesburg, South Africa, 2004; Regulating a Competitive Industry-UK, Brussels, 2005; Tulane University – International Legislative Drafting, 2005; Stanford Graduate School of Business – Influence and Negotiation, 2008 and KSG Harvard – Infrastructure in Market Economy, 200
Political career
Tambuwal started learning the legislative ropes from 1999 to 2000, while working as Personal Assistant on Legislative Affairs to Senator Abdullahi Wali, the then Senate Leader.
In 2003, he decided to run for a legislative seat as representative of the Kebbe/Tambuwal Federal Constituency. He was elected into the House of Representatives on the platform of the All Nigeria Peoples Party (ANPP).
Few months to the 2007 general elections, he defected to the Democratic People's Party (DPP), alongside the former governor of Sokoto State, Attahiru Bafarawa. But when the DPP denied return tickets to former ANPP legislators, Tambuwal swung back to the ANPP, where he eventually succeeded in picking up a ticket for the election.
But then again, when the ANPP governorship candidate for Sokoto State in the 2007 election, Alhaji Aliyu Wamakko dumped the party for the PDP, Tambuwal also followed suit.
Tambuwal held several offices in the House. In 2005, he became the Minority Leader of the House until he defected to the PDP. Upon his re-election to the House in 2007, he was also elected the Deputy Chief Whip.
At various times, Tambuwal was a member of several committees including the House Committees on Rules & Business, Communications, Judiciary, Inter-Parliamentary and Water Resources. He was also a member of the House Ad hoc Committee on Constitution Review.
He was chairman of the ad hoc committee that reviewed the report of the controversial power probe committee headed by Ndudi Elumelu; Chairman, House Sub-Committee on the Bill for an Act to Amend the Land Use Act, and acting Chairman, House Committee on Power.
He was leader of the Nigerian delegation to African, Caribbean, Pacific & European Union Parliamentary Assembly (ACP-EU) and served as Vice-Chairman, Economic Committee ACP-EU, held in Prague, Czech Republic in April 2009.
On 28 October 2014, Tambuwal formally defected from the ruling PDP to the opposition APC and few days later his security details were withdrawn by the Inspector General of Police a move that was criticised by Nigerians as being barbaric and undemocratic.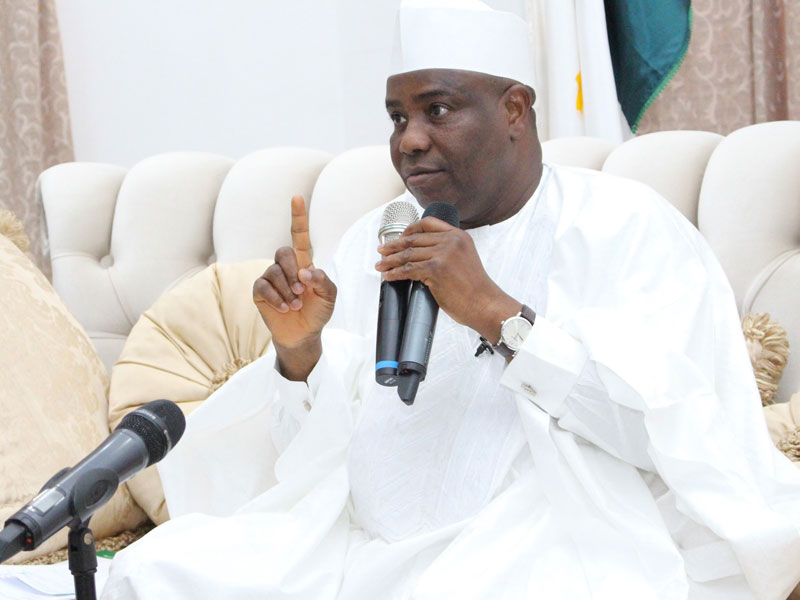 The legal luminary, Mr Olisa Agabakogba (SAN) was of the opinion that the police authority goofed in withdrawing Tambuwal's aid as police are not meant to interpret and apply the law.
On April 11, 2015, Tambuwal contested and won the Governorship election of Sokoto State. He was inaugurated on 29 May 2015.
On July 4, 2018, Tabuawal dissolved the entire State Executive Council.
On August 1, 2018, Tambuwal defected from the All progressive's Congress back to the People's Democratic Party. The March 9, 2019, Sokoto State Gubernatorial election and March 22, 2019, Sokoto State supplementary election, Tambuwal was reelected as governor of sokoto state having polled 512,002 votes while his rival Mr. Aliyu of the All Progressive Congress Polled 511,660 votes.
In October 2018, Tambuwal declared that he was running for president and said he was forced to seek the highest position to "revive the dying economy". His declaration came hours after senate president, Bukola Saraki officially joined the race for the nomination of the main opposition's PDP. Tambuwal was one of the long list of 12 candidates including four from his north western region that contested PDP presidential nomination. Tambuwal was popular in the race and was among the top four candidates (Atiku Abubakar, Rabiu Kwankwaso and Bukola Saraki) widely expected to win going by political permutations around his candidacy. A number of factors including his young age among the contestants, political experience, his untainted records from corruption indictment boosted his chances going into the primary. Analysts had predicted that should Tambuwal clinch PDP ticket he would be a formidable challenge to incumbent President Muhammad Buhari a northern Muslim who was running for reelection.
Governor Nyesom Wike of Rivers State was Tambuwal's main backer for the PDP nomination. There were reports that Governor Wike's support for Tambuwal was for his ambition to be vice presidential candidate to Tambuwal should he win PDP nomination. However, there were complaints by other aspirants that Wike was planning to manipulate the results of the primary to favour his candidate Tambuwal. Their fears stem from the fact that Wike had overwhelming influence over the National Executive Committee (NEC) of the party having single-handedly installed its Chairman, Uche Secondus. Other factors that heightened the fear of manipulation of the primary was that Wike was the biggest financier of the party and primary would be conducted in his state where he has so much power. Some presidential aspirants asked the National Working Committee of the party to move the convention from Port Harcourt to a neutral location where Wike would not have so much much influence. But Wike fired back threatening to polarize the party should the convention venue be moved out of Rivers State. Tambuwal placed second position with 693 delegate votes behind Atiku Abubakar who won with 1,532 votes in the primary conducted in the city of Port Harcourt on 6 October 2018. Bukola Saraki scored 317 and Rabiu Kwankwaso 158 votes
Source: Wikipedia