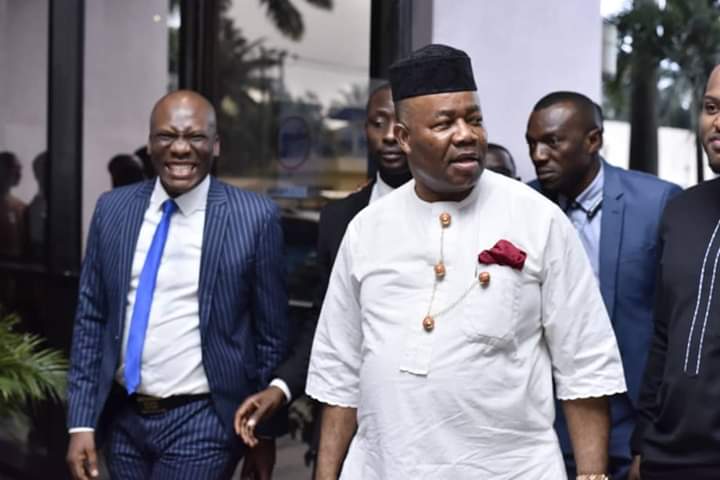 By Uche Amunike
Nigerian Senate President, Godswill Akpabio, has tasked former Rivers State governor, Nyesom Wike and his four friends that made up the G5 group, to form another aggrieved group within the opposition Peoples Democratic Party (PDP), so that the All Progressives Congress (APC) would have a smooth sail and win the presidential election in 2027.
The former Akwa Ibom State governor made this statement during the thanksgiving reception held at the private residence of the former Rivers State governor,  Nyesom Wike, at George Road, in his hometown, Rumueprikom in Obio-Akpor Local Government Area, Rivers State.
Akpabio thanked Nyesom Wike for the roles he played in bringing back power to southern Nigeria and supporting the ruling APC candidate, Bola Tinubu, against his own party's choice, Atiku Abubakar at the presidential poll.
His words: 'I want to thank you for all your efforts to bring justice to Nigeria and I want to thank the G5 Governors too.'
The Senate President, during his  address, extolled the G5, otherwise known as the Integrity Group, which is made up of five major aggrieved politicians within the Peoples Democratic Party, PDP, who kicked against the emergence of the PDP presidential candidate, Alhaji Atiku Abubakar in the last February 25 poll.
Hear him: 'We are very delighted, we are proud to have G5. Please, ensure that in 2027, another G5 emerges so that APC will continue to do well in this country. And if you like, you can add two more, make it G7 and not only G5,' he stated
Nyesom Wike revealed during the event, that Akpabio supported his governorship bid in 2015, at a time when other people questioned his participation in the gubernatorial race. According to him, the former Akwa Ibom state governor assured him that the only person that could win that election in Rivers State was him, Wike.
He further stated that Akpabio supported his gubernatorial bid with N200 million naira  which was why he supported him fully during his race for Senate Presidency because, one good turn deserved another.
In response, the Senate President explained that the money he gave to Wike was from his personal savings. His words: 'That money came from my savings in the telecoms industry where I was a Managing Director. The money was not from the Government of Akwa Ibom state. I should make that clarification. I paid tax on that money. If you check you will know.'
He further stated that Wike might not be aware that his mentor and predecessor, Peter Odili was the first person to give him such valued financial support when he ran for governorship in Akwa Ibom in 2007.
Addressing Peter Odili, he stated: 'I was sitting in Akwa Ibom when you phoned me and said 'how can you be running for governorship and you don't come to see me? You said 'come immediately'. That day I came and met somebody I don't want to mention his name now because we are no longer political friends.'
'Then you pushed something into the boot of my car. And I wondered how can somebody be so kind? Because you believe in one Nigeria. You are one President Nigeria never had.'
The thanksgiving event was attended by other members of the G5 group, namely former governors Ifeanyi Ugwuanyi of Enugu State, Okezie Ikpeazu of Abia State, Samuel Ortom of Plateau State and Seyi Makinde of Oyo State.
The former Ekiti State governor, Ayo Fayose, who is also a member of the integrity group was also in attendance, as well as acting PDP Chairman, Umar Damagum. Former governors Abdullahi Ganduje of Kano State, James Ibori of Delta State also formed part of the guest attendance list.