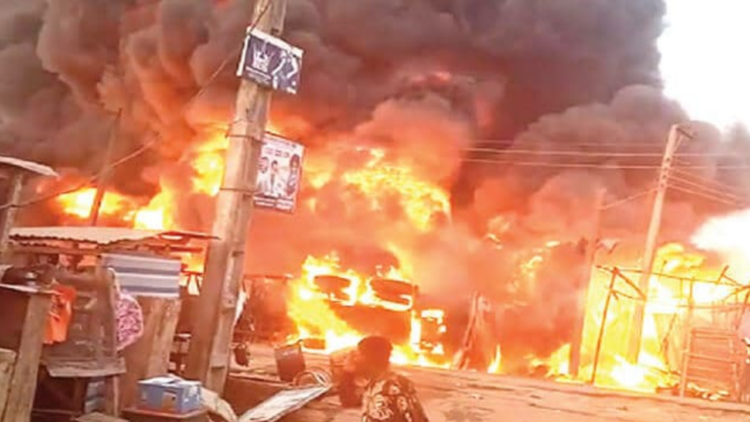 A fire outbreak has destroyed goods and properties worth several billions of naira at the popular Balogun Market in Lagos on Tuesday.
LEADERSHIP gathered that the fire incident that started in the morning on Tuesday, affected a five-storey building in the market
However, the Lagos State Fire and Rescue Service said that the fire had been put under control.
The agency said firefighters from two divisions of Lagos Fire Service had been deployed to the scene to put out the fire.
However, a source whose shop was affected, said the fire was still raging as it has razed down two floors completely.
"The fire is still on. It has razed 5th to 4th floor and it's now on 3rd floor," the source said.
But, the Lagos State government said fire fighters were already combating the raging fire.
In a statement by the Director, Lagos State Fire and Rescue Service, Adeseye Margaret, the fire has been brought under control.
"The Lagos State Fire and Rescue Service is currently attending to a Fire outbreak at the famous Balogun Market which involved the topmost floor of a five storey building. The Fire is, however, under control as mitigation are on to limits it spread. Update to follows as situation unfolds," she said.
Also, the senior special assistant (SSA) to the Governor of Lagos State on new media, Jubril A. Gawat, also disclosed on his Twitter handle that the fire was under control as mitigation were on to limit its spread.
The governor's aide wrote: "The Lagos State Fire and Rescue Service is currently attending to a Fire outbreak at the famous Balogun Market which involved the topmost floor of a five storey building. The Fire is however under control as mitigation are on to limits it spread."